Home

/

Research News

/

Stem Cell-Derived Human Striatal Progenitors Innervate Striatal Targets and Alleviate Sensorimotor Deficit in a Rat Model of Huntington Disease
20/04/2020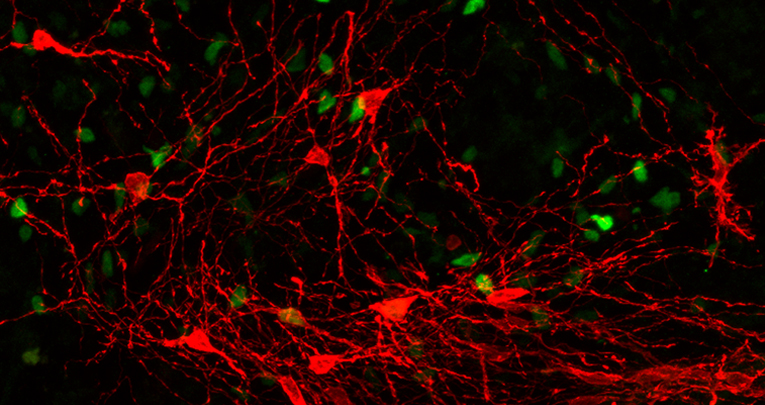 Dario Besusso # * 1 , Roberta Schellino# 2 , Marina Boido 2 , Sara Belloli 3 , Roberta Parolisi 2 , Paola Conforti 1 , Andrea Faedo 1 , Manuel Cernigoj 1 , Ilaria Campus 1 , Angela Laporta 1 , Vittoria Dickinson Bocchi 1 , Valentina Murtaj 3 , Malin Parmar 4 , Paolo Spaiardi 5 , Francesca Talpo 5 , Claudia Maniezzi 5 , Mauro Giuseppe Toselli 5 , Gerardo Biella 5 , Rosa Maria Moresco 3 , Alessandro Vercelli 2 , Annalisa Buffo 2* , Elena Cattaneo 1* .
*corresponding authors; #co-first authors.
Huntington disease (HD) is an inherited late-onset neurological disorder characterized by progressive neuronal loss and disruption of cortical and basal ganglia circuits. Cell replacement using human embryonic stem cells may offer the opportunity to repair the damaged circuits and significantly ameliorate disease conditions. Here, we showed that in-vitro -differentiated human striatal progenitors undergo maturation and integrate into host circuits upon intra-striatal transplantation in a rat model of HD.
By combining graft-specific immunohistochemistry, rabies virus-mediated synaptic tracing, and ex vivo electrophysiology, we showed that grafts can extend projections to the appropriate target structures, including the globus pallidus, the subthalamic nucleus, and the substantia nigra, and receive synaptic contact from both host and graft cells with 6.6 ± 1.6 inputs cell per transplanted neuron. We have also shown that transplants elicited a significant improvement in sensory-motor tasks up to 2 months post-transplant further supporting the therapeutic potential of this approach.
Analysis of connections between host and grafted cells in the striatum. Upper scheme shows the increase in cell connectivity between cells (shown in redin different brain regions of grafted rats) from 1 month (A) to 2 months (B) after transplantation. Immunofluorescence images show human cells visible in the striatal region thanks to the expression of GFP (in green) and human nuclei HuNu (in white) proteins. By using a modern viral tracing technique, cells forming functional connections have been labelled by mCherry protein(in red).
1 Department of Biosciences, University of Milan, Milan, 20122 Italy; National Institute of Molecular Genetics "Romeo ed Enrica Invernizzi", Milan, 20133 Italy.
2 Department of Neuroscience Rita Levi-Montalcini, University of Turin, Turin 10124, Italy; Neuroscience Institute Cavalieri Ottolenghi, University of Turin, Orbassano, 10043 Italy.
3 Institute of Molecular Bioimaging and Physiology of CNR, Segrate (Milan), 20090 Italy; PET and Nuclear Medicine Unit, San Raffaele Scientific Institute, Milan 20132, Italy.
4 Wallenberg Neuroscience Center and Lund Stem Cell Center, Lund University, 22184, Lund, Sweden.
5 Department of Biology and Biotechnologies, University of Pavia, Pavia, 27100 Italy.