Home

/

Research News

/

Sex differences in behavioral and metabolic effects of gene inactivation: The neuropeptide Y and Y receptors in the brain
12/01/2021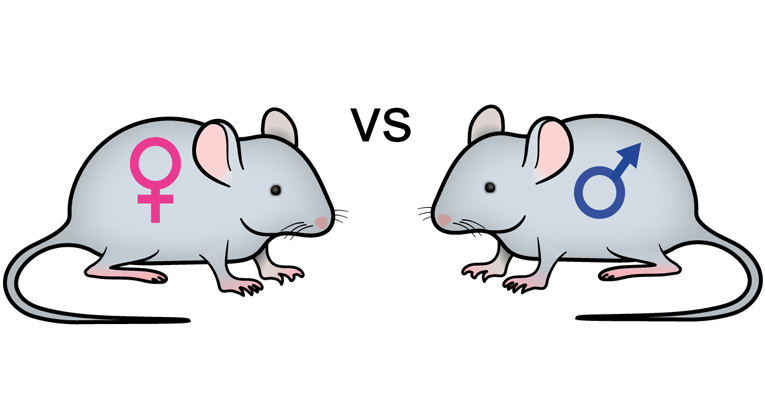 Eva C abc , Oberto A abc , Longo A ab , Palanza P d , Bertocchi I abc
Highlights
• Sex differences affect the impact of gene manipulation on metabolism and behavior.
• Genetically modified mice unravel sex differences in the NPY system.
• NPY and YR gene sex-dependently affect energy and bone homeostasis.
• NPY and YR gene sex-dependently affect emotional and cognitive functions.
Abstract
Brain and gonadal hormones interplay controls metabolic and behavioral functions in a sex-related manner. However, most translational neuroscience research related to animal models of endocrine and psychiatric disorders are often carried out in male animals only.
The Neuropeptide Y (NPY) system shows sex-dependent differences and is sensitive to gonadal steroids. Based on published data from our and other laboratories, in this review we will discuss the sex related differences of NPY action on energy balance, bone homeostasis and behavior in rodents with the genetic manipulation of genes encoding NPY and its Y1, Y2 and Y5 cognate receptors.
Comparative analyses of the phenotype of transgenic and knockout NPY and Y receptor rodents unravels sex dependent differences in the functions of this neurotransmission system, potentially helping to develop therapeutics for a variety of sex-related disorders including metabolic syndrome, osteoporosis and ethanol addiction.
Fig. 1 . 17β-estradiol (E2) exerts potent anorectic effects by decreasing NPY/AgRP signaling in different manners. E2 decreases NPY gene expression in the ARC via activation of estrogen receptors alpha (ERα); it rapidly inhibits the membrane excitability of ARC NPY/AgRP neurons by enhancing GABAB receptor coupling to GIRK channels, through a novel membrane-associated estrogen receptor (Gq-mER); it inhibits NPY release in the PVN.
a Neuroscience Institute of the Cavalieri-Ottolenghi Foundation, 10043 Orbassano, Turin, Italy
b Department of Neuroscience, University of Turin, 10126 Turin, Italy
c Neuroscience Institute of Turin
d University of Parma, Department of Medicine and Surgery, University of Parma, 43100, Parma, Italy
Events & Meetings
1 appointment per week, on Friday at 2.00 pm