Home

/

Research News

/

SPACER: A single cell SPAtiotemporal transcriptomic atlas to unveil CERebellar development and function in mouse
10/11/2021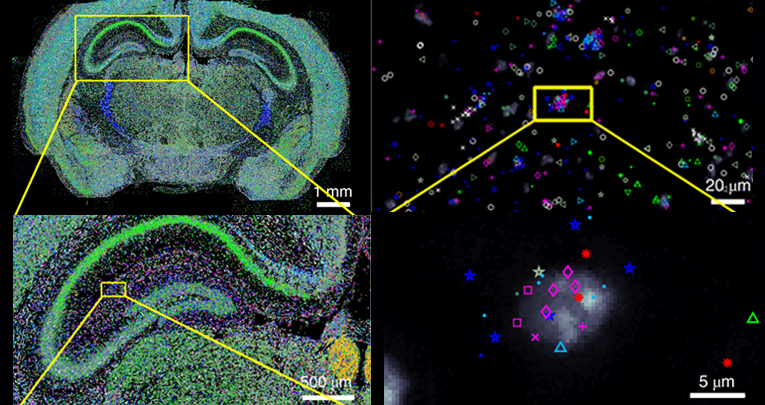 Image credit: www.nature.com/articles/s41592-019-0631-4
EASI GENOMICS
SPACER - a single cell SPAtiotemporal transcriptomic atlas to unveil CERebellar development and function in mouse
The project SPACER , conceived by Prof. Annalisa Buffo and by the post doc Valentina Cerrato from the Physiopathology of neural stem cells group , is among the projects selected as winners of a highly competitive call of the European consortium EASI Genomics , in the frame of the Horizon 2020 program. In total, 143 research groups from 27 countries all over the world applied in response to this call, but only 33 projects were selected.
In particular, EASI Genomics aims at making complex experiments feasible, although they are based on highly innovative genomic techniques, currently not available in our institute and in most of the European laboratories, but considered to be a "must have" in the neuroscientific field in the last years.
Thanks to this precious support, our researchers will perform in situ gene expression analyses on rodent tissues at distinct developmental stages before and after birth. In this way, we will study the molecular processes underneath the generation and physiology of cerebellar cells, aiming at fully clarifying the mechanisms of functioning and misfunctioning of this brain area.
In detail, this technique, elected method of the year in 2020 , will allow to analyze for the first time the spatial expression pattern of thousands of genes at the single cell level during cerebellar development and will be a precious added value to the studies of the development and physiology of the cerebellum.
These studies, indeed, cannot ignore the spatial context, since diverse cerebellar functions are based on his topography, where each cerebellar region hosts specific neuronal circuits.
The experiments funded by EASI Genomics will be performed in Stockholm, in a prestigious facility partner of the consortium, named SciLife Lab.