Home

/

Research News

/

Overexpression of the ubiquitin-editing enzyme A20 in the brain lesions of Multiple Sclerosis patients
21/01/2021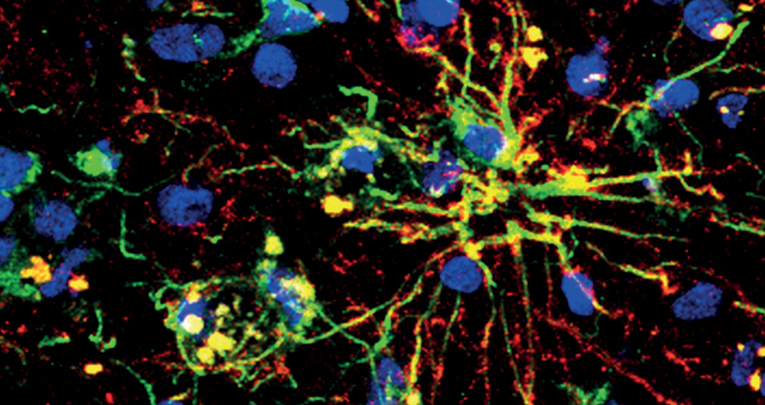 Simona Perga 1 2 3 , Francesca Montarolo 1 2 4 , Serena Martire 1 2 , Brigitta Bonaldo 1 3 , Gabriele Bono 1 2 , Jessica Bertolo 1 2 , Roberta Magliozzi 5 6 , Antonio Bertolotto 1 2
Multiple Sclerosis (MS) is a chronic demyelinating disease of the central nervous system (CNS) in which inflammation plays a key pathological role. Recent evidences showed that systemic inflammation induces increasing cell infiltration within meninges and perivascular spaces in the brain parenchyma, triggering resident microglial and astrocytic activation.
The anti-inflammatory enzyme A20, also named TNF associated protein 3 (TNFAIP3), is considered a central gatekeeper in inflammation and peripheral immune system regulation through the inhibition of NF-kB. The TNFAIP3 locus is genetically associated to MS and its transcripts is downregulated in blood cells in treatment-naïve MS patients.
Recently, several evidences in mouse models have led to hypothesize a function of A20 also in the CNS. Thus, here we aimed to unveil a possible contribution of A20 to the CNS human MS pathology. By immunohistochemistry/immunofluorescence and biomolecular techniques on post-mortem brain tissue blocks obtained from control cases (CC) and progressive MS cases, we demonstrated that A20 is present in CC brain tissues in both white matter (WM) regions, mainly in few parenchymal astrocytes, and in grey matter (GM) areas, in some neuronal populations.
Conversely, in MS brain tissues, we observed increased expression of A20 by perivascular infiltrating macrophages, resident-activated astrocytes, and microglia in all the active and chronic active WM lesions. A20 was highly expressed also in the majority of active cortical lesions compared to the neighboring areas of normal-appearing grey matter (NAGM) and control GM, particularly by activated astrocytes. We demonstrated increased A20 expression in the active MS plaques, particularly in macrophages and resident astrocytes, suggesting a key role of this molecule in chronic inflammation.
Graphical abstract
Localization of A20 protein expression in white and gray matter of human postmortem MS brain tissues by IHC and IF. The presence of lesions was evaluated with MOG and MHC II immunostaining. In the area of active demyelination, A20 was expressed by a huge number of highly ramified cells expressing the GFAP astrocytic marker.
1 Neuroscience Institute Cavalieri Ottolenghi (NICO), Orbassano, Italy.
2 Neurobiology Unit, Neurology - CReSM (Regional Referring Center of Multiple Sclerosis), San Luigi Gonzaga University Hospital, Orbassano, Italy.
3 Department of Neuroscience "Rita Levi Montalcini", University of Turin, Turin, Italy.
4 Department of Molecular Biotechnology and Health Sciences, University of Turin, Turin, Italy.
5 Division of Brain Sciences, Department of Medicine, Imperial College London, London, UK.
6 Neurology B, Department of Neurological and Movement Sciences, University of Verona, Verona, Italy.