27/04/2022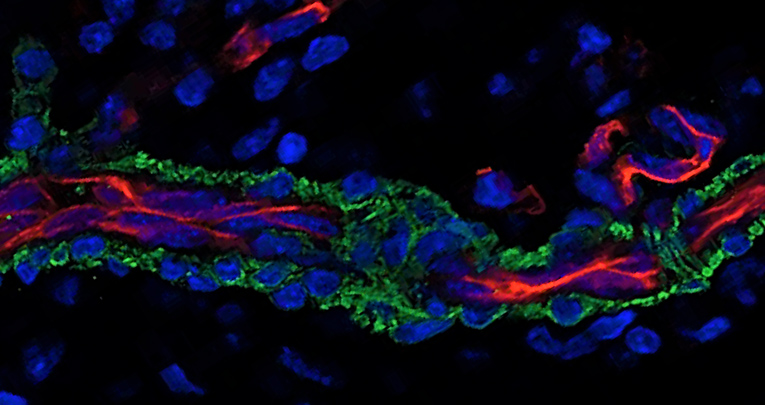 Blood Vessels: The Pathway Used by Schwann Cells to Colonize Nerve Conduits
Free PMC article
Benedetta Elena Fornasari 1 2 , Federica Zen 1 2 , Giulia Nato 2 3 , Marco Fogli 2 3 , Federico Luzzati 2 3 , Giulia Ronchi 1 2 , Stefania Raimondo 1 2 , Giovanna Gambarotta 1 2
Research team. From the left: Federico Luzzati, Giulia Nato, Benedetta Fornasari, Stefania Raimondo and Federica Zen. Bottom row, from the left: Marco Fogli, Giovanna Gambarotta and Giulia Ronchi.
Abstract
The repair of severe nerve injuries requires an autograft or conduit to bridge the gap and avoid axon dispersion. Several conduits are used routinely, but their effectiveness is comparable to that of an autograft only for short gaps. Understanding nerve regeneration within short conduits could help improve their efficacy for longer gaps.
Since Schwann cells are known to migrate on endothelial cells to colonize the "nerve bridge", the new tissue spontaneously forming to connect the injured nerve stumps, here we aimed to investigate whether this migratory mechanism drives Schwann cells to also proceed within the nerve conduits used to repair large nerve gaps.
Injured median nerves of adult female rats were repaired with 10 mm chitosan conduits and the regenerated nerves within conduits were analyzed at different time points using confocal imaging of sequential thick sections. Our data showed that the endothelial cells formed a dense capillary network used by Schwann cells to migrate from the two nerve stumps into the conduit .
We concluded that angiogenesis played a key role in the nerve conduits, not only by supporting cell survival but also by providing a pathway for the migration of newly formed Schwann cells.
Keywords: nerve guidance conduit; repair Schwann cells; vascularization.
High magnification pictures (A) and 3D reconstruction (B) of a regenerating nerve 7 days after the injury and repairlabeled with Reca1 (red, endothelial cell marker) and S100β (green, Schwann cell marker); (a–d) inserts: details of migrating Schwann cells closely associated with endothelial cells.
High resolution 3D reconstruction of regenerating nerve within a chitosan conduit 7 days after injury and repair.
High-magnification details of regenerating nerves at 14 (A), 21 (B), and 28 (C) days after the injury and repair. Sections were labeled with Reca1 (red, endothelial cell marker), S100β (green, Schwann cell marker), and Neurofilament/NF (white, axon marker); scale bar: 100 µm, insert scale bar: 50 µm.
1 Department of Clinical and Biological Sciences (DSCB), University of Torino, Regione Gonzole 10, 10043 Orbassano, TO, Italy.
2 Neuroscience Institute Cavalieri Ottolenghi (NICO), University of Torino, 10043 Orbassano, TO, Italy.
3 Department of Life Sciences and Systems Biology (DBIOS), University of Torino, 10123 Torino, TO, Italy.