Group leader: Alessandro Vercelli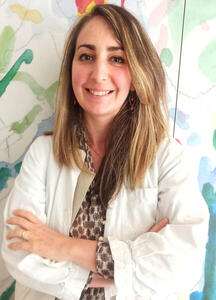 Letizia Marvaldi
Assistant Professor RTDB of Human Anatomy
Education and Course
2018 EMBO Leadership and Management skill course for Postdoctoral Fellows. Weizmann Institute of Science, Israel.
2014 PhD fromSPIN Doctoral School,PhDprogram for Neuroscience , Medical University Innsbruck, Austria.
2008 M.Sc. in Neurobiology, University of Turin, Italy.
2006 B.Sc. in Biology, University of Turin, Italy.
Current position
Since 2022 Assistant Professor, Department of Neuroscience Rita Levi Montalcini and Neuroscience Institute Cavalieri Ottolenghi (NICO), University of Turin, Italy (by a Rita Levi Montalcini fellowship award)
Previous positions
2014-2021 Postdoctoral fellow, Department Biomolecular Sciences, Weizmann Institute of Science, Mike Fainzilber Lab, Rehovot, Israel.
2009-2014 PhD student Innsbruck, Medical University of Innsbruck, Department of Neuroanatomy, Lars Klimaschewski Lab, Innsbruck, Austria.
2007-2008 M.Sc. student in Stefano Geuna Lab, Neuroscience Institute Cavalieri Ottolenghi (NICO)
Award and Prices
2021 Rita Levi Montalcini Fellowship, Ministero dell'università e della ricerca, Italy.
2020 Prize for Outstanding Achievements in Postdoctoral Research, Feinberg graduate school, Weizmann Institute of Science.
Patent
FAINZILBER Mike and MARVALDI Letizia PCT / IL2020 / 050801. YEDA RESEARCH AND DEVELOPMENT CO. LTD.
Main research interest and expertise
I am interested in the regeneration of the peripheral nervous system. In particular, the molecular mechanisms that enhance axonal outgrowth in culture of sensory neurons and reduce the chronic pain response in vivo are the subjects of my research. In my current project, I aim to decipher the cross-talk between intrinsic and extrinsic signalling factors in the development of sensory neurons.
I am also interested in how neuropathic pain is modulated by, gender, aging, and social interactions. Research into these interesting interactions will unlock novel approaches to personalized pain therapy.
About the Project:
Importins are nucleus-transporter proteins that act as master regulators of neuronal intrinsic factors. Importins are transporting signals from the periphery to the nucleus of dorsal root ganglion (DRG) neurons. We hypothesize that during development, importins determine the active transcriptional networks and thus growth and differentiation phenotypes in the sensory neurons. Our preliminary data in developing DRG neurons demonstrates that lack of importin alpha3 changes the neurite outgrowth growth pattern in vitro as in vivo.
With comprehensive RNAseq data in hand, we will now set out to functionally characterize the underlying transcriptional networks and their functional roles of importin alpha3 in nociceptors and proprioceptors neurons. We will determine the interaction of intrinsic factors (i.e.: importins) and extrinsic signals (i.e.: neurotrophin signaling) in patterning the phenotype of sensory neurons during development. Our efforts will lead to a model of DRG development that integrates neurotrophin signalling with intrinsic factors. This new approach will help to identify key drivers of neuronal differentiation and maturation and growth. These insights can then be leveraged for regenerative or palliative medicine, as we demonstrated for chronic pain.