01/10/2014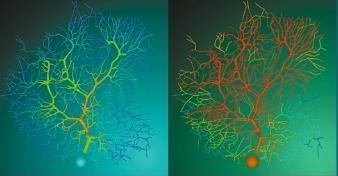 The Cerebellum, October 2014: in memory of Ferdinando Rossi
A. De Luca 1-2 , E. Parmigiani 1-2 , G. Tosatto 1-2 , S. Martire 2 , M. Hoshino 3 , A. Buffo 1-2 , K. Leto 1-2 & F. Rossi 1-2
In this work we focused on Sonic Hedgehog (Shh), a well known mitogen that exerts critical function during normal CNS development. Here we found that the exogenous administration of this molecule amplifies the number of cells committed to become cerebellar inhibitory interneurons.
Our data enlighten the role of Shh during cerebellar maturation, offering novel perspectives on the possibility to manipulate basic ontogenetic processes through the administration of this substance.
We started this study with Ferdinando Rossi. On October 2013 de decided to submit the manuscript for a special issue on cerebellar development that would be appear in The Cerebellum journal.
Unlikely, he could not support us until the end of this project and now the entire special issue, titled "Mechanisms of microcircuit assembly in the cerebellum: morphogenesis to maturation" has been dedicated to Ferdinando's memory.
Abstract:
All cerebellar GABAergic interneurons were derived from a common pool of precursor cells residing in the embryonic ventricular zone (VZ) and migrating in the prospective white matter (PWM) after birth, where both intrinsic and extrinsic factors contribute to regulate their amplification. Among the environmental factors, we focused on Sonic hedgehog (Shh), a morphogen well known to regulate neural progenitor cell proliferation. We asked if and how exogenous Shh treatment affects the lineage of cerebellar GABAergic interneurons. To address these issues, exogenous Shh was administered to embryonic and postnatal organotypic slices.
We found that Shh is able to expand the pool of interneuron progenitors residing in the embryonic epithelium and in the postnatal PWM. In particular, Shh signalling pathway was highly mitogenic at early developmental stages of interneuron production, whereas its effect decreased after the first postnatal week. Gene expression analysis of sorted cells and in situ hybridization further showed that immature interneurons express both the Shh receptor patched and the Shh target gene Gli1. Thus, within the interneuron lineage, Shh might exert regulatory functions also in postmitotic cells.
On the whole, our data enlighten the role of Shh during cerebellar maturation and further broaden our knowledge on the amplification mechanisms of the interneuron progenitor pool.
1 Department of Neuroscience Rita Levi Montalcini, University of Turin, via Cherasco 15, 10026, Turin, Italy
2 Neuroscience Institute Cavalieri-Ottolenghi, University of Turin, Regione Gonzole 10, 10043, Orbassano, Turin, Italy
3 Department of Biochemistry and Cellular Biology, National Institute of Neuroscience, NCNP, 4-1-1 Ogawa-Higashi, Kodaira, Tokyo, 187-8502, Japan
Events & Meetings
University of Turin, Italy
The Workshop is aimed at PhD students and young Postdocs with the goal to promote a thorough understanding of the functions of glial cells in health and disease. The program includes lectures on the newest conceptual advancements and methodological approaches in the study of glial cells in synaptic functions, development and CNS diseases.
Deadline for registration: December 23, 2019.
Our young researchers present their work to collegues. From January to December, every two weeks, on friday at 2:00 pm
Seminars Room, NICO
The main goal of the BraYn initiative is to organize a scientific conference involving different laboratories across Italy and Europe where young researchers, especially PhD students and junior postdocs, can share their knowledge, skills and ideas to establish new collaborations between different research groups.