Group leader: Giancarlo Panzica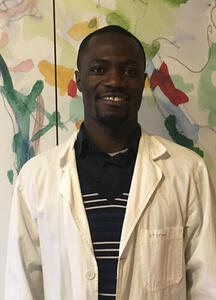 Godstime Stephen Kojo Morgan
PhD student
Curriculum Vitae
Born in Ghana (Accra) on 27.06.1993 – Ghanaian
Education and training
2012-2015 Bachelor Degree in Biotechnology, University of Camerino (110/110 cum laude)
2015-2017 Master's Degree in Molecular Biotechnology (104/110).
Thesis: "The frequency of the c.1529C>T (p.Ala510Val) missense change in cerebellar ataxia patients of Italian ancestry" (Laboratory of Medical Genetics, supervised by Prof. Alfredo Brusco, Dott. Cecilia Mancini, University of Turin).
2017 – today
PhD Student in Neuroscience.
Tutor: Professor Stefano Gotti (Neuroscience Institute Cavalieri Ottolenghi, Department of Neuroscience Rita Levi Montalcini, University of Turin).
Scholarship and Award
23.12.17 G.I.A.T.O (Ghanaian Immigrant Association in Torino) award for "hardwork and dedication in academic excellence".
Sept 2014 - Jun 2015 Erasmus mobility and placement program (Technical University of Lodz, Poland).