Group leader: Giancarlo Panzica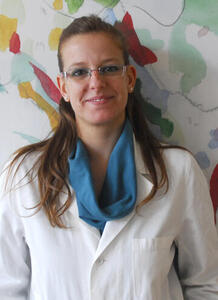 Alice Farinetti
PostDoc fellow
Curriculum Vitae
Born in Moncalieri (TO) on 23.12.1981. Italian.
2004. Stage in Neurobiology's Laboratories of Department of Animal and Human Biology, University of Turin.
2006. First level degree Natural science faculty – University of Turin.
2008. Second level degree in Evolution of animal and human behavior, University of Turin
2014. PhD in Experimental Neuroscience
2015. Post – doctoral scholarship from the University of Turin for research at the Department of Neuroscience.
Scholarships:
Dottorato di ricerca (PhD at the University of Turin, 2009)
Department of Neuroscience, University of Turin (2014)
Scientific Societies:
Società Italiana di Neuroscienze (S.I.N.S.)