13/11/2013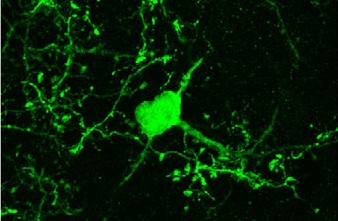 Development, The Company of Biologists, November 2013
Serena Bovetti, Sara Bonzano, Donatella Garzotto, Serena Gea Giannelli, Angelo Iannielli
Maria Armentano, Michèle Studer and Silvia De Marchis
COUP-TFI is an orphan nuclear receptor acting as a strong transcriptional regulator in different aspects of forebrain embryonic development. In this study, we investigated COUP-TFI expression and function in the mouse olfactory bulb (OB), a highly plastic telencephalic region in which continuous integration of newly generated inhibitory interneurons occurs throughout life. OB interneurons belong to different populations that originate from distinct progenitor lineages. Here, we show that COUP-TFI is highly expressed in tyrosine hydroxylase (TH)-positive dopaminergic interneurons in the adult OB glomerular layer (GL).
We found that odour deprivation, which is known to downregulate TH expression in the OB, also downregulates COUP-TFI in dopaminergic cells, indicating a possible correlation between TH- and COUP-TFI-activity-dependent action. Moreover, we demonstrate that conditional inactivation of COUP-TFI in the EMX1 lineage results in a significant reduction of both TH and ZIF268 expression in the GL.
Finally, lentiviral vector-mediated COUP-TFI deletion in adult-generated interneurons confirmed that COUP-TFI acts cell-autonomously in the control of TH and ZIF268 expression. These data indicate that COUP-TFI regulates TH expression in OB cells through an activity-dependent mechanism involving ZIF268 induction and strongly argue for a maintenance rather than establishment function of COUP-TFI in dopaminergic commitment.
Our study reveals a previously unknown role for COUP-TFI in the adult brain as a key regulator in the control of sensory-dependent plasticity in olfactory dopaminergic neurons.
Read more dev.biologists.org
Events & Meetings
Our young researchers present their work to collegues. From January to December, every two weeks, on friday at 2:00 pm
Seminars Room, NICO
The main goal of the BraYn initiative is to organize a scientific conference involving different laboratories across Italy and Europe where young researchers, especially PhD students and junior postdocs, can share their knowledge, skills and ideas to establish new collaborations between different research groups.